Outside the Lines in Bosto
Nov 03
Walking 101:
 Stay up right
Put one foot in front of the other
Try for straight lines
Don't fall down
You know, it is always the last one that gets me.    For the past two month I've been out of commission with a bum ankle.   I wish I was doing something super athletic like trail running hills in the rain with a wind chill of -30.  But, so not the case.   I was…wait for it…walking down the stairs in the dark.  A really simple every day kind of thing and BAM!  I'm down.   Ankle rolled in a way that is not good.
And now, two months later – it is still a little swollen.  Definitely squishy in the wrong spots.   And totally screwing with my exercise.    I mean – I'm sidelined to push-ups, sit-ups and bench dips and I'm going nuts.   I actually miss running – and God knows I don't even really like to run.   
(Yup, I miss this.  Early mornings.  Sneakers used for athletic purposes.) 
I spent the entire last month really not doing anything but compressing, elevating and ibuprofening myself to death.   Where is my progress?!   When I went to Mass Gen, and the fantastic doc looked at me and said, "Professional athletes take months and months to heal sprains, what makes you think your ankle is going to be different?"  Um, thanks?  Except I really cannot wait another 4 months to do something more physical then exercises on my living room floor.
I'm trying to magically wish it away so by next week I can be outside again doing stuff.  Anything.  I'll take a lovely stroll at this point.    But, magically wishing it away never really works in reality (totally disappointing, I know), so I guess it is on to the next step – physical therapy with hopefully no draining of my foot.  Because that is gross and no one wants me to write about that.
Nov 02
The Night Circus
"The circus comes without warning".  This is one of the best first sentences of any novel read in a long time.  It's right up there with Shadow of the Wind.  I'm a ferocious reader.  I might have 6 books out at the library at any given time.  I go to the library because we have no more room for no additions to our own little library.  But this book, The Night Circus, by Erin Morgenstern, is one of those books that requires ownership so the reader may revisit the circus and get sucked in all over again.
 I got the book on Friday and was finished on Saturday.   Could not put it down.
Morgenstern creates a world so immediately compelling, you are lost is swirls of black and white, images both haunting and fantastic.  Without giving too much away, the story revolves around two young illusionist/magicians (whatever you want to call them) who are pitted against each other in a challenge against their knowledge with the circus as a venue and, more importantly, inspiration.    Please, please go read this book.   And, Morgenstern is a MA author!  Support the local scene, folks.  So, so good. 
Ohh, and I totally get the eReader thing, I do (kindofnotreally, but whatever).  But this book deserves to be bought hard copy – the design styling is just perfection and really adds to the pleasure of reading the story.  Trust me.   Pony up the 20 bucks.  You won't be sorry.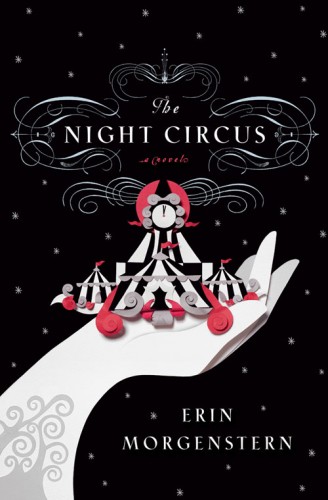 This book just makes me want to read more excellent writing – so now my next book has to be something of equal standing, right?   Recommendations, please!   
Nov 01
And…Back. Finally.
It would seem that my summer and early fall should be riddled with exciting adventures, epic events and one great story after another, right?  Well, my lovely sister got married and I found a new job (finally!) – just two things.  Hmph.    I should have wrote more, no?
But those two things were super fantastic, so it's okay that they diverted my time and attention.  It's not every day that your little sister gets married to an equally great guy.  Being able to participate in their wedding from beginning to end was pretty much awesome.    Now, they are blissfully wed, and living in the town where we grew up!   Full circle. I could go on and on about the wedding, (and will if you ask nice, no arm twisting required), but it's not really my story tell.  The day was gorgeous and my sister was even prettier!
 (A snap shot of the ceremony - picture perfect!)
Now, my news – a job!  Finally!  All of you readers who are looking for a new position know how painstaking the search can be – the highs of initial interest, the lows of waiting for the phone to ring.   It's like dating that ambivalent guy who is just stringing you along enough to you're your interest.  Terrible.  And to make matters worse, I was working from home.
Some people thrive on telecommuting.  I am not one of them.    There are only so many g-chat conversations to have with your mom, boyfriend and friends before the TV looks real interesting.  And sweat pants, although super comfortable aren't great for the self esteem build up.   I'm sure Shawn totally appreciated the fact that I'd put on real clothes before he got home, but I was pajamas for 7.5 hours of my work day.  No. Way. To. Live. 
Now, I go to an office and work with real people.  I get dressed and shower every day.  Vast improvement.   And I get to do really great things like attend the Copley Farmer's market and eat lunch in the beautiful Boston Public Library.  Not too shabby.  
(Ah - Copley Farmer's market - real life.) 
(Who wouldn't want to eat lunch here, gorgeous BPL courtyard.) 
Needless to say, life is pretty good right now.  I'm excited about the next couple of months (New York City, Punta Cana, Puerto Rico – definitely not complaining – wander lust satisfied.)   Happy face all around. 
Mar 01
Just signed up for two races.   No more messing around.  Excited and determined.
Feb 21
Run, Run, Run, Run, Run
I wish I ran faster.  I can run okay, but it's the speed that gets me.  Maybe my body just isn't built to go fast?   I'm usually okay with my slow pace until it's early in the outdoor boot camp season and it's me and a bunch of marathon training runners.   I'm much better suited to May outdoor boot camp when normal people start coming out and I'm not always the last person in the pack.    Mildly demoralizing. 
Despite this, I got new outdoor running clothes in preparation for the chilly March mornings.   As a kid, I always thought new sneakers/equipment/clothes would make me faster, better, stronger, whatever (I'm not alone here, right?).  I kind of feel the same way about the new winter running hat and pull over.   I'm going to be lightening fast.   Or maybe just not five minutes behind.  Whichever is fine with me.   I'm looking forward to getting home and testing them out tonight.  I'll let you know the outcome! 
Feb 16
Just did 2.75 miles along the Charles. Felt good.
How do you say off the wagon in Hawaiian?
These past two weeks I was on lovely garden island of Kauai.    It is heaven.  Pure, gorgeous, green, warm sands, big beaches, heaven.  Can you tell I miss it?   I saw a dozen humpback whales, swam with a pod of spinner dolphins (yes, they actually spin!), rode ATVs, hiked past waterfalls, and tried my best to play in the surf of 20 foot waves.   I'm actually kind of tan.  Kind of.   It was, in a word, awesome.  (Evidence of said awesomeness below.)
But, I missed Boston too.  Okay, not the gross grey slush that is now melting and revealing it's trove of left over college kid residue.  Gross.   I missed our house and our cat.  I missed Beantown Bootcamp.   I missed planned meals and some sort of routine.  Call me a creature of habit, but without the confinements of home, I fell off the well behaved good eating wagon with a vengeance!  Did you know there was a place called Bubba's Burgers?   Yup.  It was delicious.   I felt like I was in good company, Steven Tyler and Bill Clinton ate there too.  They're healthy, right?
Now, I'm back and working on getting back on track.     It won't be that hard, but I hate the two steps back feeling.   Outdoor boot camp starts soon and I know for sure I'm going to get my butt handed to me.   So, I'm going to take my slightly tan, very relaxed self, and get refocused and recommitted.   But, I can still think about Tunnels Beach, green mountains, and the smell sun block, right? 
Waterfall on the way to the Queen's Baths 
Gorgeous blue waters of Tunnels Beach
Mountains by our condo.  Talk about view! 
Jan 31
Big Girls Don't Cry…In the Office
Have you ever had one those no good, very bad days where every little thing is like a giant battle?   Why, hello, Monday morning!   Every email today felt like a struggle and by the time 5 PM rolled around I was ready to lay my head on my desk and cry out of sheer frustration.   But, grown, professional women do not cry in their cubicles.  They do not talk out loud to their computers in anger or make outlandish gestures to their phones when on a conference call.  So, I didn't.  Even though I really wanted to roll my eyes, and clash my claws.  I maintained a sense of decorum, finished out my day and had a small mental breakdown in my car.   (Why is it that children's literature is so deft when defining the doldrums of adulthood?) Tomorrow is another day, right?
(image source:  Maurice Sendak)
I think it might be the law of vacations. The week leading up to the departure is fraught with hiccups and small fires. I think it is to stop us from getting vacation brain:  a total lack of focus on anything but the destination and things to do in the new place.  I'm getting closer and closer to vacation brain. I leave on Friday (!!) and the thoughts of warm sand, lapping waves and a frozen beverage are getting me through the mountain of work, a fresh 15 inches of snow and one more interview before I leave!  Wish me luck!    
On deck for tomorrow:
The power of scent
Humpback whales
Jan 27
Work from home breakfast!  Mushroom and leek egg white omlette = delicious.  Far surpasses the luna bar on my hour commute.
Gangsta Lean Interview
Who goes to an interview with two different shoes? Me. Of course.  I can be grateful that they were two black shoes, and I managed to grab a right and left shoe, but that is where my luck ends. To clarify, I did not leave the house with two different shoes. 
I am interviewing in the city and taking public transportation is the easiest way to get from office to office.   But, as I am sure you're all too aware, it is a nasty, slushy, icy, snowy mess out there.   Wearing heels to walk to the T is impossible.   I rock my sneakers and change my shoes prior to interviewing.  
Today, I reached into my bag only to discover that I brought one 3 inch heel and one 4 inch heel.   Thus, the gangsta lean stance.   I am also grateful that men don't notice shoes, or my awkward posture.  
Maybe the lean gave me bravado because the interview went well.   The best one yet!   Keep your fingers crossed, readers, this could be something exciting!